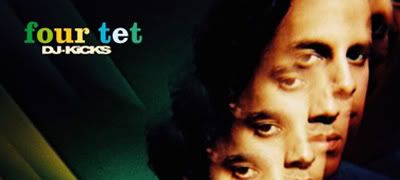 I got this promo in the mail today for yet another release in the
DJ Kicks
compilation series, number 27 to be exact, mixed by none other than Keiran Hebden a.k.a.
Four Tet
himself. The 20-song compilation includes a brand new track from FT, called "Pockets" (not his best work, but still…it's FT, it's gotta be good), and also songs from
Animal Collective
,
Madvillain
,
Curtis Mayfield
and many others. Here are a few of my fav's from the mix:
EDIT: MP3s removed upon request.
[MP3] Animal Collective – Baby Day
This was originally released as the b-side to "Who Could Win A Rabbit?" (I had no idea)…it's a great, great AC song that combines the more wild, electronic stuff from Here Comes The Indian with the more melody, harmony-driven stuff from Sung Tongs. This is where I feel Animal Collective needs to be…not so obscure that it's jarring noise, and not so pop that it becomes meaningless. A truly great song from a band with a lot of hits and misses.
[MP3] Madvillain – Figaro (ST101 Remix)
I think I almost like this remix more than the original…what do you guys say?
[MP3] Four Tet – Pockets (new!)
This one drags on a bit too much for my tastes…and I know, a lot of Four Tet drags on, but most of it is amazing (Unspoken is one of my favorite songs, and one of his longest)…but at only 5:00, it really shouldn't drag on. It's still enjoyable, but not what I've come to expect from Keiran. What do you guys think?
[MP3] Shona People Of Rhodesia – Taireva
This track has that great, fuzzy Congotronics sound that I freaking LOVE…this is a sound that could go on forever, and I don't think I'd ever get tired of it. It's like each note is a drop of rain in a rainstorm that you're stuck in, but it's one of those storms where you're already soaked and it seems like nothing in the world matters anymore… you just want to run around and dance and jump in mud and yell as loud as you can.