For those that have had friends and relatives lost while serving the USA – Memorial Day may have more of a meaning than grilling out and drinking beer after beer after beer. For others, it may be a day off work where everything is inconveniently closed or just a 3-day weekend to travel somewhere. Regardless of the meaning it holds to you, I am here to put a twist on our national day of "remembering." By no means is this twist to be taken as an apathetic shrug of the shoulders to war veterans or lost soldiers, but one of musical entertainment.
For the last 95 years we've been remembering fallen soldiers but for a brief post we're remembering fallen bands.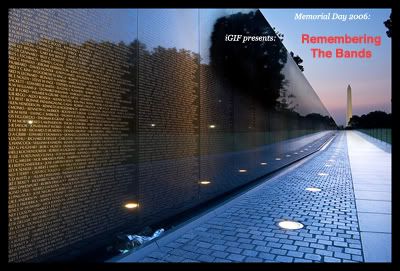 A few notes before we get to our dearly departed bands' MP3s. These are
by no means
the only bands that have broken up/been dissolved in the complicated history of music. I never planned/had time to cover all of them, at all, but with your help in the comments everyone can get a taste of the bands I didn't choose to cover. Some of the bands tried to replace irreplaceable members and others are going out on (recent) reunion tours. Either way, let's get over our bitterness for Yoko and heroin overdoses in order to praise some great bands that aren't gracing our ears with new music anymore.
[MP3] Nirvana – Frances Farmer Will Have Her Revenge on Seattle
Cause: Lead singer Kurt Cobain's heroin overdose and alleged suicide.
[MP3] Blind Melon – No Rain
Cause: Lead singer Shannon Hoon's cocaine overdose in New Orleans.
[MP3] The Beatles – Happiness Is A Warm Gun
Cause: Yoko? Death of manager? All extremely talented musicians interested in trying new things?
[MP3] Queen – Good Company
Cause: Losing a singer like Freddie Mercury can be pretty detrimental to any band. They continued with some new music and tours, but Mercury is an irreplaceable.
[MP3] The Who – Baba O'Riley
Cause: The death of drummer Keith Moon seemed to set a chain reaction of events that slowed the band down. With Daltrey and Townshend working on a new album I can only pray to see them live sometime.
[MP3] Jackson 5 – ABC
Cause: Jacko goes solo.
[MP3] Neutral Milk Hotel – The King of Carrot Flowers Pt. One
Cause: Can't make music without Jeff Mangum! Whether he didn't like the fame, wanted to pursue other projects, or was tired of making music has yet to be fully determined.
[MP3] The Juliana Theory – If I Told You This Was Killing Me, Would You Stop?
Cause: Trouble with record labels, record sales, and a dwindling fan base.
[MP3] Sublime – Santeria
Cause: Lead singer Brad Nowell's heroin overdose. Since he was the driving force of the band, much like Cobain, it's hard to continue without him.
[MP3] Rage Against The Machine – Guerilla Radio
Cause: de la Rocha left the group citing their decision making process and ambitions were completely lost.
[MP3] Genesis – That's All
Cause: After Collins left the band they never really recovered.
[MP3] Grandaddy – A.M. 180
Cause: They went out in style. After not dealing with major labes, playing Ticketmaster/Clear Channel venues, and whatnot the band finally had to take a break from sticking it to the man.
[MP3] Jump, Little Children – Rains In Asia
Cause: They've been on hiatus for a year, but haven't made plans (or ruled them out for that that matter) to return yet.
[MP3] Get Up Kids – Campfire Kansas
Cause: They're all in side projects, but decided to call it quits after 10 years of music.
[MP3] Ben Folds Five – Brick
Cause: Mr. Folds decided to drop the trio five and go solo. Good move.
[MP3] Alice In Chains – Would
Cause: Heroin strikes again.. Lead singer/founder Layne Staley was fighting depression for a good amount of time and overdosed in 2002.
[MP3] Blink 182 – Stay Together For The Kids
Cause: Screw the kids! Tom DeLonge has the "best music in decades" to make. Phht!
[MP3] Buffalo Springfield – For What Its Worth
Cause: A catapult that led to CSN&Y but not without a break-up only 25 months after their conception.
[MP3] Creedence Clearwater Revival – Proud Mary
Cause: Instead of lead singer John Fogerty going solo, other band members got jealous of him being a frontman and tried to go solo first, eventually ending the band.
[MP3] Creed – With Arms Wide Open
Cause: God – proving to humanity that he does exist.
[MP3] The Clash – Lost In The Supermarket
Cause: Creative differences, a controlling manager, and subsequent disillusionment all lead to the band's eventual demise.
[MP3] Talking Heads – Psycho Killer
Cause: After Eno, after the Eighties, Byrne called the band together one final time in 1991, citing fatigue, frustration, and creative differences as the cause of their disbanding.
[MP3] The Pixies – Gouge Away
Cause: After announcing the band's temporary hiatus, Francis announced the band's breakup during a radio interview in 1993, unbeknownst to the rest of the band.
[MP3] Pavement – Range Life
Cause: After an extensive world tour in 1999, the band announced their hiatus, which would later become their obvious breakup, apparently due simply to exhaustion. It was a mutual decision.
[MP3] N.E.R.D. – She Wants To Move
Cause: Frontman/superstar Pharrel announced in 2005 on BBC's Radio One that he was unhappy with the group's direction/management under Virgin records, and that the band had "expired."
[MP3] No Doubt – Don't Speak
Cause: Gwen just wanted it all, and on her first class flight to stardom, she forgot to pack the band.
[MP3] Q And Not U – Soft Pyramids
Cause: They believed they had taken the band as far as they had wished, after the release of their final album, 2004's Power.
[MP3] The Smiths – Frankly Mr Shankly
Cause: Rourke was gone, Marr and Morrissey were at eachother's creative throats, and in 1987, the band called it quits.
[MP3] Pulp – Mis-Shapes
Cause: After almost 25 years in the business, Pulp went on hiatus in 2002 while the members pursued other projects. Their fate, while unknown, does not look good.
[MP3] At The Drive-In – Catacombs
Cause: The band generally chalks it up to creative differences, while Cedric takes full blame himself, believing ATDI was holding him back from expanding musically.
[MP3] Led Zeppelin – Fool In The Rain
Cause: The death of drummer John Bonham proved too devastating to continue making music.
[MP3] The Velvet Underground – Oh! Sweet Nuthin'
Cause: After numerous breakups and reunions, the band's definitive end came when cancer finally clamed the life of Sterling Morrison in 1995.
[MP3] The Police – Every Breath You Take
Cause: Sting's name is a verb. End of story.
[MP3] Soundgarden – Black Hole Sun
Cause: Too much tension between members led to a predicted break-up.
[MP3] The Unicorns – Jellybones
Cause: Extensive and exaustive touring and recording stress lead to the infamous "THE UNICORNS ARE DEAD (R.I.P.)" message posted to their website…rumors flared, but the truth was inevitable.
[MP3] Stone Temple Pilots – Plush
Cause: Between solo albums and rehab, the band decided to go their separate ways.