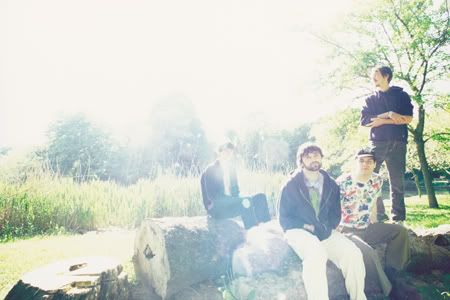 Thanks to whoever ripped and uploaded this on OiNK/IT. Thought I'd share it with you. Apparently,
Animal Collective
"sampled" a few lyrics from the
Stevie Wonder
song "I Just Call To Say I Love You" but were not able to get clearance to use the lyrics in the mastered version of
Feels
. Part of the lyrics can be heard on the album, but not in full as intended. The band, in an awesome move, has decided to release a white label, limited edition vinyl 7″ with the original version of "The Purple Bottle" as well as a cover of
Nirvana
's "Polly" as the b-side. Here's what AC member The Geologist himself had to say about the release:
"does everyone know what a white label is? i assume some of you do, but for those who don't, white labels are illegal releases. they are most prevalent in the techno and hip hop world when a song contains a sample that did not receive clearance to be used, but the artist still wants to release it. the song is then released on a piece of vinyl with no writing on the label or sleeve, and no serial number, so there is nothing the owner of the rights can use to prove who released it. it can't officially be traced to any artist or label. if anyone has been following the bmore club music scene, that's pretty much all white labels. i actually don't have one of these AC white labels (and that's really the truth, though i want one) but both songs on this could never be legally released since one contains the stevie wonder reference and one is a nirvana song. but if motown or courtney love ever decide to come after whoever put this out, they can't do shit because there's no serial number, no artist name, and no label name to trace it back to. and the fact that its so limited means no money will be made off it so there's no reason for them to get an investigator on the case in the first place."
Why does this all matter? Well, apparently, somehow, a copy of the white label 7″ leaked and was subsequently ripped for our downloading pleasure. The song is almost identically the same (aside from the crappy vinyl rip quality), with the same track length. If you skip to around the 2:30 mark, you can clearly hear the Stevie Wonder lyrics, which are muffled in the Feels version. Here's the song:
[MP3] Animal Collective – The Purple Bottle (Stevie Wonder Version)
Animal Collective will apparently release the vinyl-only limited (500 copies) white label single on July 4th, so make sure to be on the ball that morning, as I'm sure it will sell out fast.