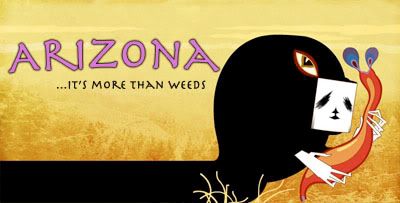 I'm not sure exactly how many people from Arizona we've got in our readership, but if you're one of them, you should feel pretty damn happy right about now… Now you can proudly say that you live in a state of importance and
significance
(I'm still waiting on the Dakotas)! This ridiculously cool, ungoogleable new band named after the now ridiculously cool state,
Arizona
, has yet to really penetrate the blogosphere in the way that it deserves. They've got a sound that recalls some pretty fine
Beatles
-esq instrumentation and
Modest Mouse
style freakouts, paired with great vocals and a light dusting of a
Decemberists
-like alt/folk/country twitterpation (you're damn right I used that word, they're completely worth of it). Check out these songs from their upcoming album,
Welcome Back Dear Children
:
[MP3] Arizona – Splintering
I love the cello in this song, it's really inventively used, a creates a real atmosphere that the rest of the instrumenation compliments and continues as the song progresses. This song's also got that Modest Mouse-like freakout at around the 1:30 mark which kicks the song up a notch, hammering home their message of "what goes around, comes around."
[MP3] Arizona – Some Kind Of Chill
This song starts a little blandly, but quickly picks up pace as more elements are added… It's like the band is painting a landscape of an Arizona desert that changes as they slowly approach some podunk town…imagine old timers and daisey dukes following the lone singer as he walks into town, harmonizing with him, praising his return. When that guitar solo comes in…oh man…it's just EXACTLY what the song needed, at EXACTLY that time. The singer leaves back into the desert, off to give some other podunk town hope, entertainment, and a reason to get up in the morning.
Visit Arizona's MySpace for more songs
Music for Robots likes them too