As you may have read on Twitter or can deduce from the image above, my second time attending SXSW was made memorable by planning a day party equally as unforgettable. I had been telling friends and colleagues alike that last year's inaugural SXSW experience was a whirlwind of sticking IGIF's toes in the water while figuring Austin out, but this year would be a full-on cannonball looking to make a notable splash. With a buzzworthy lineup condensing nearly every band I've loved over the past six months into one afternoon, great beer on tap, and hoards of hipsters to boot – Floating Fest was a sonic tsunami soaking any music lover within earshot.
The only bad part about having a day party on Friday is that you have to patiently wait 48 hours for the event to roll around, hanging Floating Fest posters on 6th Street and talking to friends about Friday only increases anticipation. Thursday night was like Christmas Eve, yet instead of making sure I left out the right amount of cookies and milk I was checking to make sure I had enough amps and other equipment back-lined. Even though excitement made sleep difficult, it made waking up wide-eyed and bushy-tailed all the easier.
By the time the doors opened at noon, there were people waiting to get inside and enjoy the delicious Flying Dog brew on tap. Aside from introducing their 20th Anniversary Raging Bitch IPA (a dangerously drinkable 8.3% ABV = drunk ass hipsters), Flying Dog kicked off the early afternoon in style by creating a refreshing 'beermosa' (Woody Creek White Belgian Wit + splash of OJ = mmm). By 12:30 the place was poppin' and full o' people ready for some good music, luckily Holiday Shores started Floating Fest off on the right foot.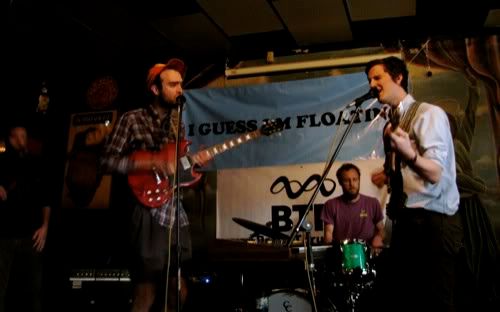 I've seen Holiday Shores a number of times now and they get progressively better each and every time. Their reverb drenched, guitar driven songs soar to new heights live and seem to rock the socks off any unsuspecting or otherwise unfamiliar listeners. The interior of Lovejoy's has a ton of exposed concrete, including stone floors that really added a fantastic live element to their set. Big melodies and infectious energy abound, if you've yet to see this group perform in person then add it to your bucket list ASAP.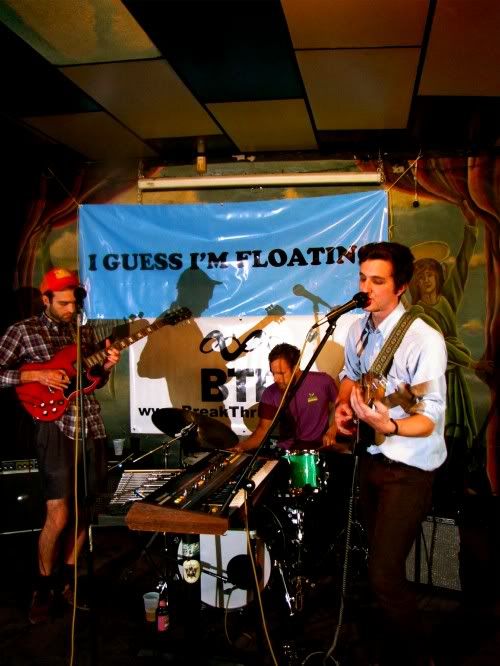 ---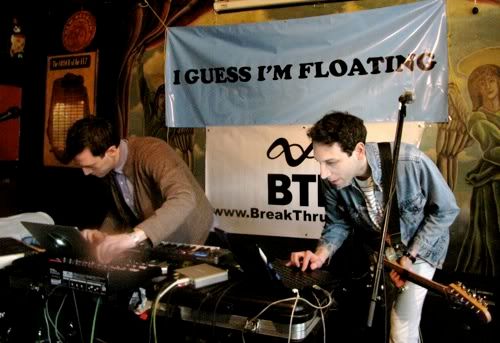 Ever since Tanlines sent me their debut EP Settings a month or so ago, I've been unable to stop spinning it. Their sound is utterly infectious, driving even the most rhythmically challenged listener to start busting dance moves usually utilized when home alone. Lovejoy's was absolutely packed for their set and Tanlines did not disappoint, delivering funky tropical beats mixed with catchy guitar and summery upbeat samples. WIth their debut EP only containing six tracks, hearing some new material made me more than excited for what the future has in store for Tanlines.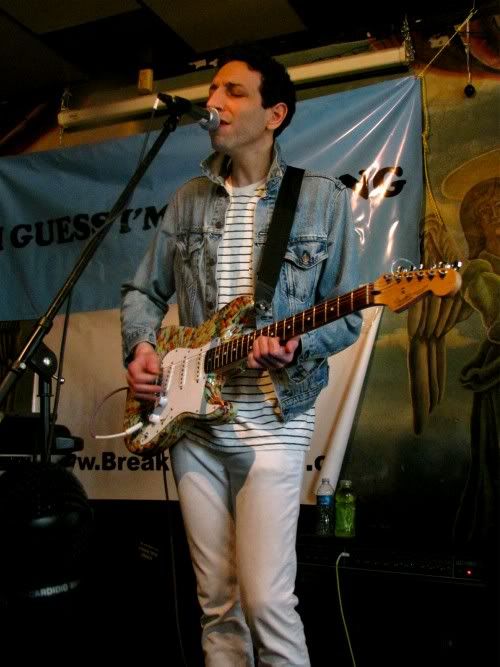 ---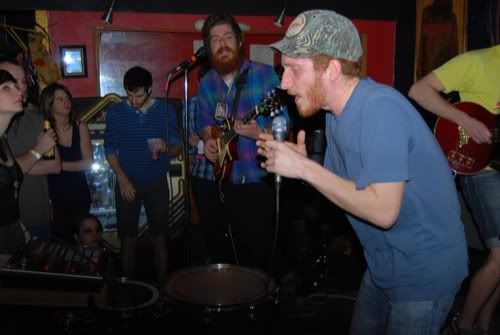 Thursday night, before Floating Fest kicked off, I ventured to the Sub Pop/Hardly Art showcase and caught pieces of Le Loup playing indoors at the Galaxy Room. I was very excited to see them and their stage presence is even more energetic than their sound, something I didn't think possible. However, the sound tech at Galaxy Room did the band very little justice and washed out their sound somewhat with way too much treble and barely any bass. Thankfully, the tech at Lovejoy's was far superior and Le Loup proceeded to own ears for half an hour.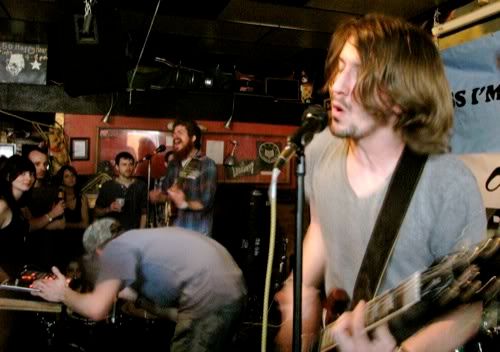 By the time they took the stage (an hour and a half into Floating Fest), the two kegs of Flying Dog were no more and our first line down the block formed. Lovejoy's was bumping and Le Loup could certainly feel it, delivering a anthemic set shaking the crowd to their core. Frontman Sam Simkoff barely stands still long enough to adjust a song's samples, bouncing around on stage between the other musicians like trapped inside a pinball machine. They sounded superb and had trimmed their numbers from a seven piece down to a five, which really seemed to tighten their sound. I'll be honest, I wasn't ready for how good Le Loup were live and they completely rocked the house dropping jaws to the ground.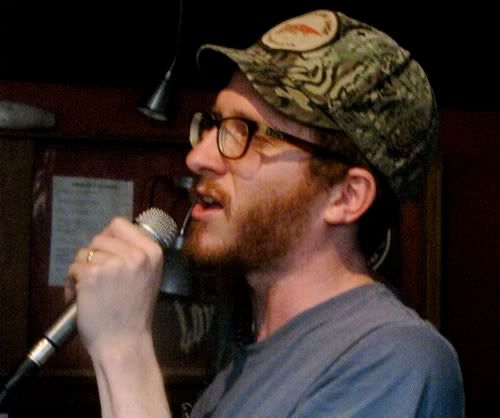 ---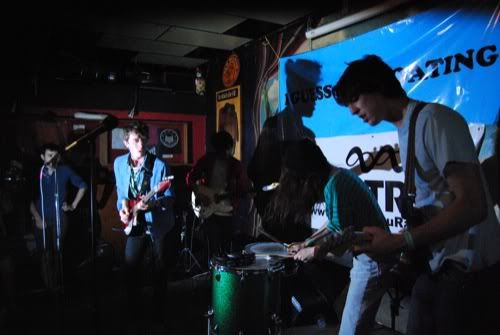 Beach Fossils were setting up as soon as Le Loup broke down their gear, the young four piece from Brooklyn were more than excited to play what was something like their 5th SXSW show that week. In a similar vein to Holiday Shores, the stone floors and exposed concrete at Lovejoy's catapulted their reverb reliant sound into another sonic stratosphere. Since their sound relies heavily on powerful, catchy guitar melodies – lead singer's Dustin Payseur's vocals sometimes get lost in the sound of louder instruments but such seems to be the case with live lo-fi acts.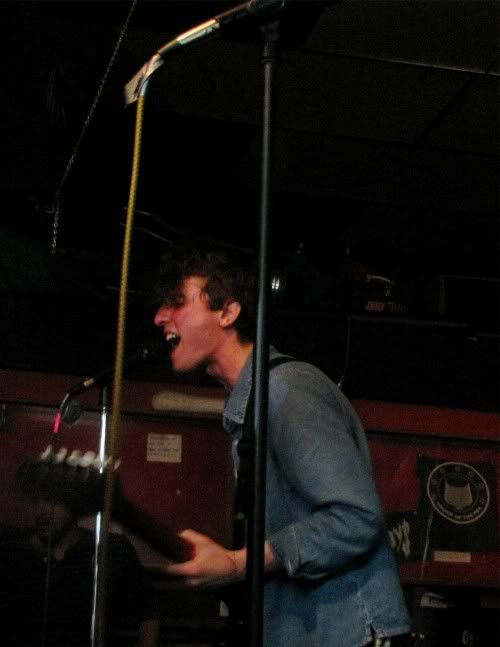 ---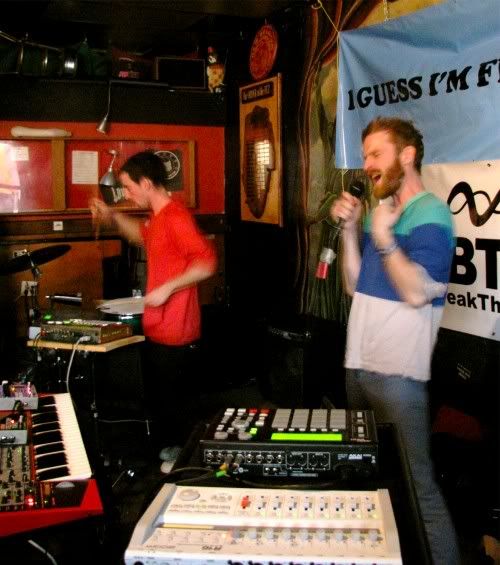 Javelin were one act I was the most curious to watch live. Having never seen them perform before, I was well beyond wondering what and how their sample heavy two-man show would translate in person. It would have been a complete failure if not for the emcee skills of Thomas van Buskirk (not a stage name). He really knows how to milk an audience for all their worth.
---
The track "Lifted" from Lemonade's Pure Moods is one of the catchiest tunes I've heard all year, singlehandedly making me excited for their performance. Despite their complicated sound, the band is only a three-piece with a traditional lead singer who's only form of instrument is a microphone and voicebox. What they lack in band members, however, they more than make up for with an absurdly talented drummer. He controls the samples, drum pads, and bangs on a traditional kit with such ferocity he had a broken finger and a mean case of tremors after their set.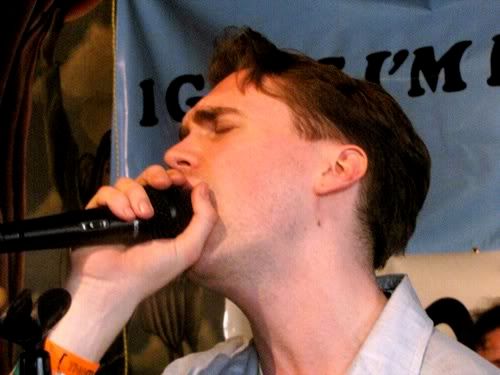 ---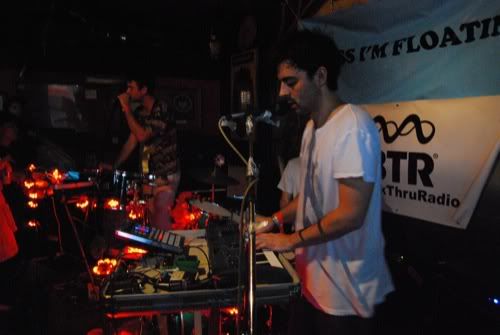 I've seen a lot of mixed reactions regarding The Ruby Suns latest LP Fight Softly – many claiming to have liked their previous album better. I tend to love both in very different ways; Fight Softly, for instance, utilizes completely different production methods to accentuate a tighter pop sound. It's an album that plays through beautifully and oh, how I wish they had a longer set so they could've done just that.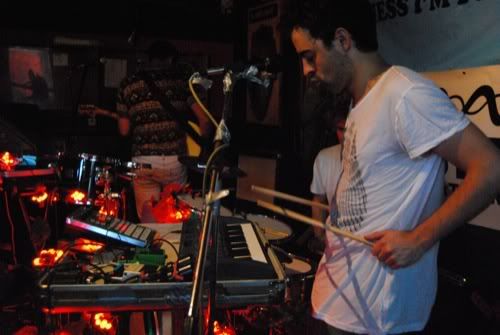 Having seen the night before alongside Le Loup, they were one band at SXSW I couldn't get enough of. Ruby Sun mastermind Ryan McPhun is as nice a New Zelander I've met (the only one too) and sports some of the best t-shirts a frontman could ever wear (Floating Fest was no exception). Lovejoy's was far over capacity when they came on and the line around the block deterred no one from eventually coming inside. The Ruby Suns played a terrific set, closing it out with a two-song jam of "Oh, Mojave!" segueing straight into one of my favorite Fight Softly tracks "Dusty Fruit".
---
When IGIF originally asked Small Black to play our SXSW show waaay back in 2K9, it wasn't until a month before the gig via thier booking agent did I realize Washed Out would be joining them onstage. Talk about the best icing ever on top of your cake! Small Black are fantastic and have such a high ceiling it's sickening, yet combining them with Washed Out was a near perfect match. Small Black bring the fuzzy electro-rock, Washed Out brings his dreamy synth pop, and the elbow-to-elbow audience brought smiles and good vibes.
---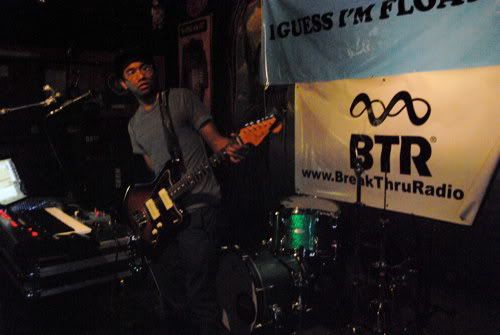 As I type my review of South Carolinian wunderkind Toro Y Moi, a few Tweets surfaced saying Chaz Bundick was robbed in Brooklyn. Stealing is already one of my biggest pet peeves but who robs already poor musicians?! Thankfully Chaz had all of his original gear in Austin and performed a spacey set, twisting many of his original tracks off Causers Of This into tunes with different tempos all together. He's a live performer with a strong stage presence drawing an audience in, capable of delivering surprise after surprise.
---
My camera batteries were almost completely dead by the time Oh No Oh My took to the stage to close out Floating Fest. The only returning act from IGIF's SXSW day party last year, ONOM jammed all new tunes of which I had only heard two prior to their performance. I'm definitely intrigued as to what the new album will sound like, their evolution from the pop darlings I first discovered in 2006 into a far more developed four-piece with added depth puts me on the edge of my album release seat.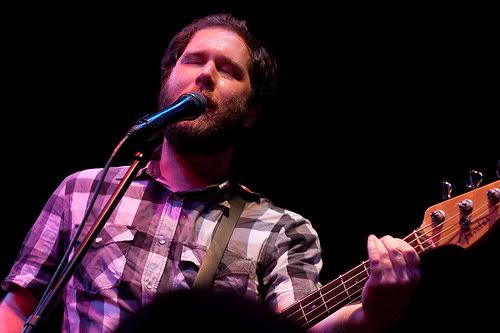 ---
All in all, Floating Fest was a smash success and one of the best concerts I've ever been too.. but I'm slightly biased! ;) From the long lines and ear-tickling performances to meeting a ton of old/new friends alike – it's giving me the itch to expand our concerts outside the SXSW bubble. For extended thoughts and a viewpoint different than this Kentucky kid's, Connor will be delivering his SXSW sentiments shortly!