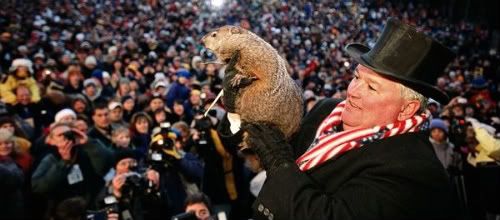 There are some "holidays" that have too much oddball history to ignore, with Groundhog Day ranking near the top of the list when it comes to weird facts and traditions. Aside from the cult of old Pennsylvanian men sporting top hats, there's the utter absurdity of parading a rodent around like Simba from The Lion King in hopes he can be more meteorologically accurate than Al Roker. Regardless, the people of Punxsutaney, Pennsylvania wait then entire year for this trivial day and even Mr. Groundhog Day himself – Bill Murray – urges everyone to check out the small town's holiday because it's absolutely hilarious. Murray was on to something with the holiday being hilarious, see if you can make it through the backstory without chuckling.
The Groundhog Day tradition started in 1887 with legendary groundhog Punxsutaney Phil, who apparently has been the only groundhog since it's initial conception. How does he keep on keepin' on? Well, Phil owes his 123-year-plus lifespan to what the Inner Circle call the "elixir of life" – a secret recipe he takes a sip of every summer at the Groundhog Picnic that magically gives him seven more years of life! When he comes out to see his shadow, Phil has to communicate his weather prognostication with the Inner Circle in Groundhognese – and yes, there's a dictionary for that.
Phil isn't without his problems though, as the National Climatic Data Center says he's only right about 40% of the time. Then there's the infamous Animal Collective advertising PETA, who are demanding that the typically hibernating animal be replaced by a robotic groundhog. He may not be robotic but Phil is getting high tech – you can stream his weather prediction, follow him on Twitter, and even text "Groundhog" to 247365 to get his prediction first.
Enough with all the bizarre history and crazy talk, enjoy some appropriately themed tunes below and – for the love of groundhogs – follow Bill Murray's advice: "DON'T DRIVE ANGRY!"

[MP3] Laura Veirs – Shadow Blues
[MP3] Bright Eyes – If Winter Ends
[MP3] Tom Waits – You Can Never Hold Back Spring