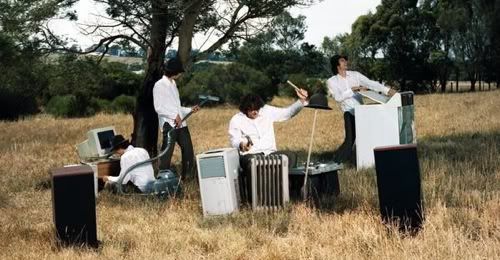 I along with two of my close friends are one day away from embarking on a cross-country-and-back road trip that's sure to severely limit my contact with the interweb and those thriving within it. Although I did pick up one of those fancy mobile broadband gadgets, it will be used solely for updating and maintaining this weblog and saving our arses if need be when it comes to finding hotels, hostels, campgrounds, and IHOPs. If we three each come back alive, perhaps we didn't have enough fun.
Anyway, I've been spending the day souring the blogs, torrent sites, music-oriented CRMs (consumer relations managers, i.e. Last.fm, Pandora, etc)–basically anywhere I can find enough new music to keep my interest piqued for 30 days or so. I finally got into the GvB-recommended Quiet Village, and a great indie pop band called Good Night, States has a fantastic LP called Short Films On Self-Control… but perhaps the best discovery of all comes very highly recommended from one of my favorite sources of new music (Good Weather For Airstrikes): Australia's one-man-band sensation Gotye.
Gotye (real name Wally De Backer) has been described by many as Australia's answer to Beck, with vocal capabilities similar to that of Justin Timberlake and a penchant for beat-making and sonic manipulation that rivals some of the better do-it-yourselfers of the post electronica, post Y2K hip-hop and trip-hop movements. He's become a veritable A-lister in the Aussie music world despite his relative stagnancy here in the States, picking up loads of accolades ranging from the Best Male Artist award at the 2007 ARIAs to being shortlisted for the 2006 Australian Music Prize.
Although his current album Like Drawing Blood has been out for the better part of two years, it's just beginning to make waves across the pond… it'll soon be released in the US, after which Gotye will undoubtedly embark on a cross-country tour… maybe we'll run into eachother along the way. As he works on new material, it's never too late to reach back to the sunny, messy vibes of '06. There's really no other way »

[MP3] Gotye – Heart's A Mess
[MP3] Gotye – The Only Way
---
Official Site
|
MySpace
|
More MP3s
|
Buy Like Drawing Blood