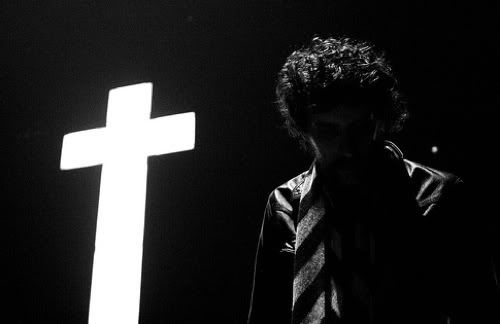 It might seem a little pointless to remix your own song, but the mega-famous French DJ duo Justice have taken up the task, despite the hundreds and hundreds of remixes already out there. The single for "DVNO" If you already love DVNO and the black, gold, and God-fearing aesthetic they tirelessly promote in their videos and promotional artwork, this remix provides more of the same fragmented, beautiful wreckage they're known for. The added bass work resounds better than the drone (which grows tedious by the end of the song), but all in all this is the best DVNO remix I've listened to.

[MP3] Justice – DVNO (Justice Remix)
[MP3] Justice – DVNO (Album Version)
---

Here's the eye-catching video for "DVNO" »
As if the song needed any help, the video reinvents it.
---
Label Site
|
MySpace
|
More MP3s
|
Buy †