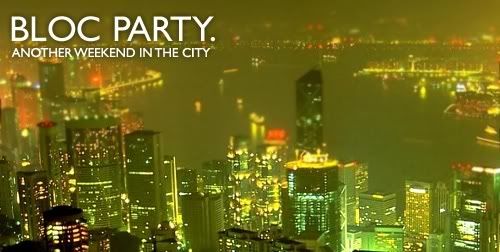 [click artwork to enlarge. this is not the official artwork, I made this myself.]
You may have heard the news but if you haven't, listen up: Bloc Party didn't just record eleven songs for their latest album A Weekend In The City…they recorded twenty-freaking-two of them! That's another eleven b-sides that the band officially released a couple of days ago on various singles. If you're wondering, like I was, where most of their sound from Silent Alarm went since that album's 2005 release, look no further than this collection of b-sides.
I thought Sufjan's Avalanche was impressive but this might just take the cake. I honestly can't decide right now which I like better, the real album or the b-sides collection (unofficially titled Another Weekend In The City). If you include "Two More Years" and "The Present" (two songs released between SA and AWITC), the choice becomes more clear. Listen to the following two songs and tell me you aren't just as confused and delighted as I am:

[MP3] Bloc Party – We Were Lovers
[MP3] Bloc Party – The Once And Future King
You can [easily] find the b-sides collection floating around on the internet (that is, if you don't want to buy like 8 different variations of "The Prayer" single and go to the trouble of ripping vinyl, etc.) but you won't get the sexy artwork you see above unless you grab it here. If you'd like to make your own artwork, just remember that the Bloc Party font is Gill Sans Regular.
---
Official Site
|
MySpace Site
|
More MP3s
|
Buy A Weekend In The City
---