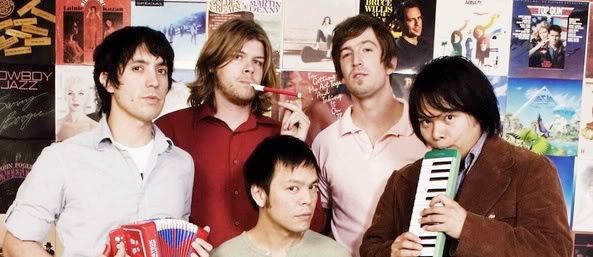 I posted on Little Ones a little while ago [see here], but I just can't get enough. If there's one song that's kept me going all summer, lifted my spirits whenever it came on my iTunes randomly, generally just made the summer better, it's "Lovers Who Uncover." Comparisons to The Shins ran rampant (we even nodded to it too, eek), but that's a little hasty. While they obviously have plenty of influences, I'd say their sound is actually pretty unique. I mean, sure there's poppy indie-rock everywhere, but Little Ones touch on something that a lot of bands only hint at. I really can't wait for their debut…
[MP3] Little Ones – Lovers Who Uncover
I really can't describe how good this song makes me feel. I forget about everything else whenever it's on…it's always that "perfect" song that comes on randomly, like the one that you just needed to hear at that moment…but that moment is always. Hand clapping, girlie male vocals, chanting, an impossibly catchy riff…aaaaannnndddd… I think I hear woodblock. Fuck yeah.
Buy Sing Song EP at Insound for just $7 (totally worth it)
The Hype Machine comes through with more MP3s, as always