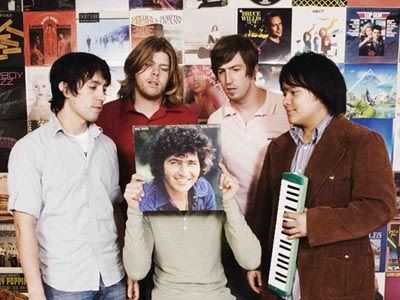 I was just thinking the other day how it'd be nice to find another instantly likeable indie pop band… You know, one that I didn't have to get used to, one I could play whenever I want, just to feel good. A band to clap along to, one that I don't have to learn to like, one that, if I go to bed with certain substances effecting my brain and play their music while I sleep, will trigger crazy-cool dreams of riding on the back of that big dog-thing from Fantasia as he flies me over Eureka's Castle as I wave in euphoria to my friends Magellan the Dragon and Sir Klank…
And then I found Little Ones (thanks to all you fine people) and I became elated once again. Little Ones are an infinitely likeable, superb band from L.A. that recall a Shins-like vibe (not to mention the Chutes Too Narrow-like artwork). If you've been following this site for a while and haven't given up hope, you'll probably love this band.
All highly recommended:
[MP3] Little Ones – Lovers To Uncover
[MP3] Little Ones – Cha Cha Cha
[MP3] Little Ones – High On A Hill
C'mon everyone, head over here to buy their debut EP Sing Song for a whopping $7!