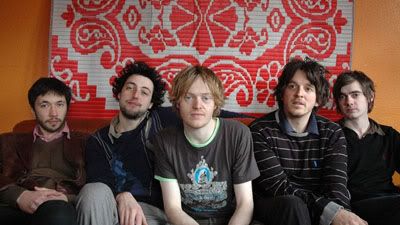 Problem: I need more "p" bands. Solution:
Polytechnic
, for starters. I grabbed this randomly from a friend who went to one of their lives shows because he said they sounded like
CYHSY
. The verdict? Yeah, heh, they kinda do, but don't expect just some wannabe from across the pond,
Polytechnic
are
just
as hardcore/grassroots/hypeable/carefree/smug as the bouncy Brooklynites. They just don't have as much money. Let's all pitch in to change that last fact, shall we?
Unlike any of the indie cliches from this city, this is music from Manchester via Montreal; Arcade Fire's sense of drama and scaling heights are a clear reference point here. - Manchester Metro
Arcade Fire and CYHSY?? Ok ok, now you must be bullshitting us. While that reviewer was obviously pining for the wow effect, that doesn't smudge the fact that the music speaks for itself:
[MP3] Polytechnic – PEP (highly recommended)
[MP3] Polytechnic – Running Out Of Ideas
Visit Polytechnic's Official Site for the usual shiz they put on official sites.