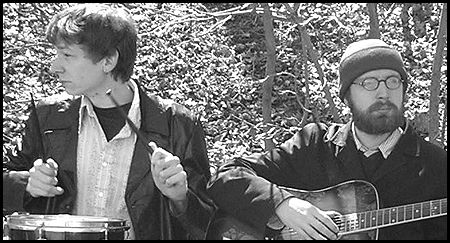 The Invisible Clock Factory
are a duo of Toronto-natives Matthew Ivanowich and Carrot Jones who, armed with not much more than a bunch of toys, noisemakers, and a dream, create beautifully aromatic, self-genred
space pop
, drawing influences from
The Flaming Lips
,
Elephant Six
, and
The Fiery Furnaces
. With a pretty complex self-released concept album already under their belts, TICF have taken another direction with their music, as displayed on the couple of songs they've released in anticipation of a new album:
[MP3] The Invisible Clock Factory – Penelope Rose
[MP3] The Invisible Clock Factory – The Quantum Particles Rock and Roll Song
TICF are currently in the studio working on their new album, Somewhere Beyond The Blue-Cheese Moon, due out this summer. If you liked what you heard, head over here to download that concept album for FREE.
In other news…
I saw Islands with Why? and little-known emcee Cadence Weapon on Thursday night in Providence. The crowd was seriously lacking due to a Wilco, Ted Leo, and Ok Go show for Brown U's Spring Weekend (they also had Common, Edan, and Yerba Buena…seriously, what the fuck… they spent like $200,000 bucks on this shiz…all Wheaton got was Zox and The Slip….not bad, but not exactly The Ritz either…ok, back to the point), only about 50 or so people there, but nevertheless Islands was brilliantly exciting, as expected. Dressed in almost-matching white outfits, they trekked through every song off of their debut… Nick Diamonds was especially entertaining: among other things, he tossed himself all over the stage, dumped water on his head, jumped into the crowd to dance while stealing a fan's hat for a song, smashed his guitar, and THEN, and here's the best part…THEN he brought his band (instruments in hand) and the entire crowd across the street from the venue to an Elementary School basketball court to play shirts vs skins…that is, until security rolled up. Amazing.
I'll be posting on Cadence Weapon very soon…here's a teaser:
[MP3] Cadence Weapon – Oliver Square