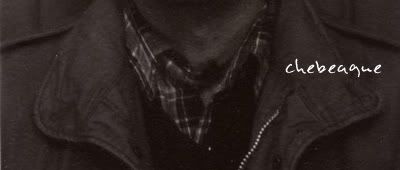 Chebeague
is essentially the work of
August Brown
, a talented singer/songwriter out of L.A. (of all places). Their sound is best metaphorized by the obliteratedly raped cliché of a tumbleweed blowing in the wind: light and bouncy with a bit of twang, confident and directional, and a little rough around the edges (but not too rough to damage it's character), and they've been compared to such greats as
Elliott Smith
,
Neutral Milk Hotel
, and perhaps most accurately
Bright Eyes
.
Melancholic, hopeful, delicate and mysterious, Chebeague is a home for those haunting stories and melodies that stay with you long after you think youve left them behind. – Chris Barton
[MP3] Chebeague – Keeping Quiet
In other news…
The Raconteurs have a new singe, which means they also have a new b-side. It's not exactly what I would expect (an instrumental, and I'm pretty sure it's a standard too…) but it's not bad.
[MP3] The Raconteurs – The Bane Rendition