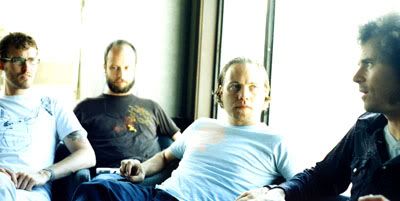 I've been waiting seemlingly forever for news about/from
Rogue Wave
ever since I saw them live last year with
Mazarin
. Today I picked up these songs which they have released on a UK CD single of
Publish My Love
which came out recently this year. I know that both of these songs existed before this release, both I think "Eyes" was available only from their myspace (bad stream quality). Check them out!
[MP3} Rogue Wave – Eyes
This song, like almost all RW songs, is instantly likable, right from the first strum 'n twang. It actually sounds more like a Gibbard tune than anything else, but much like Ben, Zach Rogue has the incredible ability to convey this feeling pure, affectuous, and caring emotion through his lyrics and the orchestration of the music. You can tell he probably wrote this one when he was younger (due to the lack of a band / demo quality)…probably for someone he loved (or still loves)…it's amazing that someone can so convincingly convey that amount of emotional depth in a song…but Zach nails it each time.
[MP3} Rogue Wave – Manna
At first, this song feels a little empty, but the addition of the cello (I think that's what it is), maybe the only cello that I've heard used in an RW song. It really gives fullness to an otherwise slightly empty tune…don't take that the wrong way though, it's still another excellent song from RW. If you're looking for RW's darker side, something not usually exhibited (Zach is one of the nicest people you'll ever meet), look no further than Manna.
I decided to toss in a few more B-Sides/Demos/Covers from Rogue Wave for you guys. Enjoy!
[MP3} Rogue Wave – March
[MP3} Rogue Wave – Every Moment (Demo Version)
[MP3} Rogue Wave – On A Plain (Nirvana Cover)
[MP3} Rogue Wave – Seconds (U2 Cover)
[MP3} Rogue Wave – Everyday (Buddy Holly Cover)